Long Leather Bridal & Wedding Gloves
Elevate your wedding day look with our exquisite collection of long leather bridal gloves. Available in both silk-lined and unlined options, these gloves offer ultimate comfort and style. Perfect for any formal occasion such as a wedding, debutant ball or opera. These gloves are made in Italy with the finest materials to ensure durability and longevity. Make a statement with these timeless and elegant gloves on your special day.
Use the filters to find your perfect pair of gloves.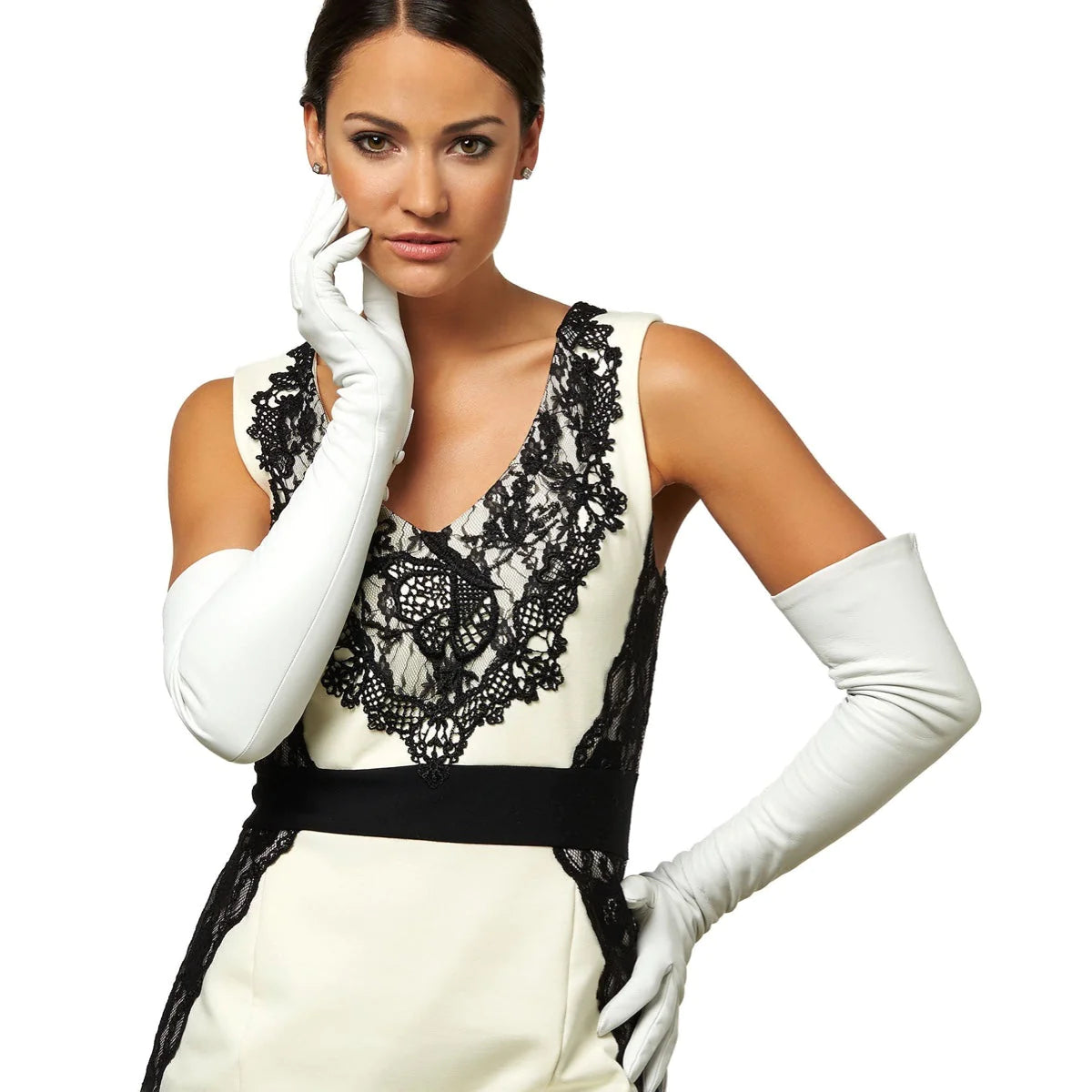 Long Leather Bridal Gloves
Leather bridal gloves are a must-have accessory for any bride on her special day. The gloves are a symbol of elegance and sophistication, adding a touch of glamour to any wedding dress. At Leather Gloves Online, we offer a stunning collection of leather bridal gloves that are handmade in Italy by skilled craftsmen. Our bridal gloves are available in different lengths, ranging from wrist-length to elbow-length, and come in both silk-lined and unlined options. The silk lining is smooth and comfortable on the skin, making it perfect for brides who want to stay cool and comfortable during their wedding day. Unlined gloves, on the other hand, offer a closer and more tactile grip. Whether you prefer the traditional white or ivory gloves, or a more modern color to match your dress, we have a wide range of colors to choose from. With our bridal gloves, you can make a statement of elegance and grace on your wedding day, and create a lasting memory that you will treasure for years to come.
Bridal Gloves Length
Our long leather bridal gloves are available in a variety of lengths, ranging from 6 button to 16 button. The length of the glove is measured in inches above the wrist, and the number of buttons refers to the decorative buttons on the glove. The classic "opera" length of 6 buttons extends approximately 6 inches up the arm from the wrist and typically ends just below the elbow. Our gloves are handmade in Italy by the best craftsmen, ensuring superior quality and attention to detail. With over 25,000 pairs sold since 1998 and over 30,000 positive reviews, you can trust in the satisfaction of our products. Leather Gloves Online is the biggest leather gloves retailer in the USA & Canada, and we are committed to delivering the highest quality gloves for your wedding. Choose our long leather bridal gloves for an elegant and timeless accessory on your special day.